Company News

Click headlines below to view full story...
January 2023 - From our USA colleague Rich Nolan, NMA President and CEO, outlining a "minerals mining renaissance"
January 2023 - Our thanks to Ashley Fish-Robertson - Canadian Women winners of the Global Inspirational Women in Mining
December 2022 - Blockchain technology is a real option for those in our industry looking to add a level of transparency to their supply chain. Our thanks to Fasken Martineau DuMoulin LLP for this insightful 6 minute read.
2022 - USA - Pending Democratic Enforced Mineral/Manufacturing Disaster (Publication: thanks to the National Mining Association)
2022 Mineral Intensive EV'S "Riding" on Canadian Oil (Shared: Northern Ontario Business)
Santa Trudeau puts a lump of coal in every 2020 Christmas stocking. To try to sell the hiked carbon tax as an answer to the economic devastation of the past year is a breathless audacity.
Publisher & colleague Michael Fox with political & energy related comments in his November issue of
The Prospector News
An Important Letter from Rich Nolan
National Mining Association, President and CEO
May 5, 2020
Now in its 82nd year, the Prospectors & Developers Association of Canada (PDAC) hosted its annual convention and surpassed 25,000 delegates.
Lewis Bonder with Greater Grand Sudbury's Mayor Marianne Matichuk at MinExpo 2012
An incredible soirée during the 2012 MinExpo show, put on by the Government of Ontario.
2012 Canadian-Corporate Mineral Exploration and Development Tax Credit.
PDAC 2012 - Toronto, Canada
Our congratulations to Maestro Communications of Montreal, winners of two prestigious 2011 Summit Creative Awards for its General Electric-Canada submissions.
From a very bright & socially minded mining engineering student we are helping. He also has a poetic flair; see the MPI "Contact Us" page for an example of his expressive talent.
Many thanks to Norma Procyshyn & Professor Hani Mitri for inviting MPI to McGill's celebration of 140 years of mining engineering, on May 21, 2011. Over 250 guests were treated to cool jazz, sumptuous food & lots of unprecedented c-o-l-d Canadian brew.
Our invitation to "Mining Day On The Hill" hosted by The Economic Club Of Canada on Nov.24, 2009. Guests of the Mining Association Of Canada (MAC), the event held in Ottawa, began with opening remarks by the Honourable Lisa Raitt, Minister of Natural Resources.
On June 4th, 2009 our organization was invited by Consul General Lee McClenny & Pierre Richer, Sr. Commercial Specialist, U.S. Commercial Service – United States Consulate - Montreal to address the West Virginia Trade Mission To Canada. The event was surgically promoted by our office and successfully attracted visiting Canadian companies to meet US members of this Mission, who are seeking partnership arrangements & sales assistance in Canada.
2009 Update: The Ontario Government, Ministry of Northern Development and Trade announces the continuance in its fourth year, with Mining Publications International, of promoting Ontario's mining supply companies. In 2009, the advertising exposure will be seen in the 15,000 monthly mailings plus 3,500 monthly distributions at 32 international trade shows and conferences.
Congratulations to Mine Manager, Roger J. Emdin, P.Eng. of XSTRATA's Craig Mine, Sudbury Operations, Onaping Ontario. He has won...
Effective April 20, MPI is especially pleased to welcome Jon Baird, Managing Director of CAMESE as an advertising agency for its members. MPI has put together exceptional discounts, free ads & many other incentives for all of its clients, now including CAMESE & its 250 members.
On November 21, 2006 MPI was invited by the Mining Association of Canada (MAC)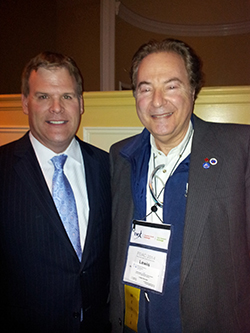 Canadian Minister of Foreign Affairs John Baird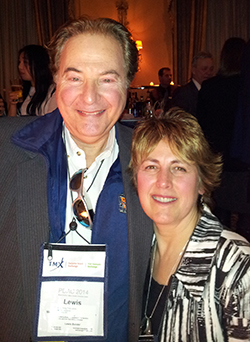 Carol Hughes, MP Algoma-Manitoulin-Kapuskasing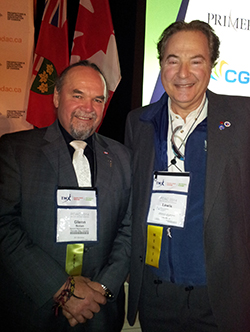 Glenn Nolan, former President of PDAC.
Currently Vice President, Aboriginal Affairs- Noront Resources Ltd.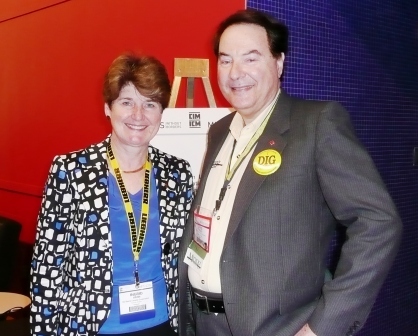 Ingrid Hann, VP HR at de Beers Canada Inc.

We met at the 2011 CIM VIP reception. Ingrid is passionately involved in many aspects dealing with the evolving role of women in mining. The presentation about "Mikawaa", which is an Oji-Cree word meaning Discovery - & the progressive role of women in the Ring of Fire was very enlightening. Visit the site: www.mikawaa.com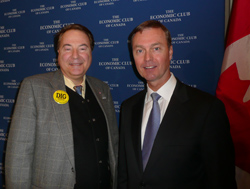 Donald R. Lindsay, President and Chief Executive Officer, Teck Resources Limited

2009 Mining Day On The Hill - Mining Association of Canada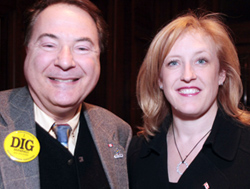 Lisa Raitt, Canadian Minister of Natural Resources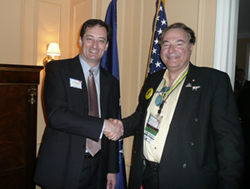 Consul General Lee McClenny welcomes Lewis & his staff to his residence in the evening, following their presentation at The West Virginia Mission to Canada.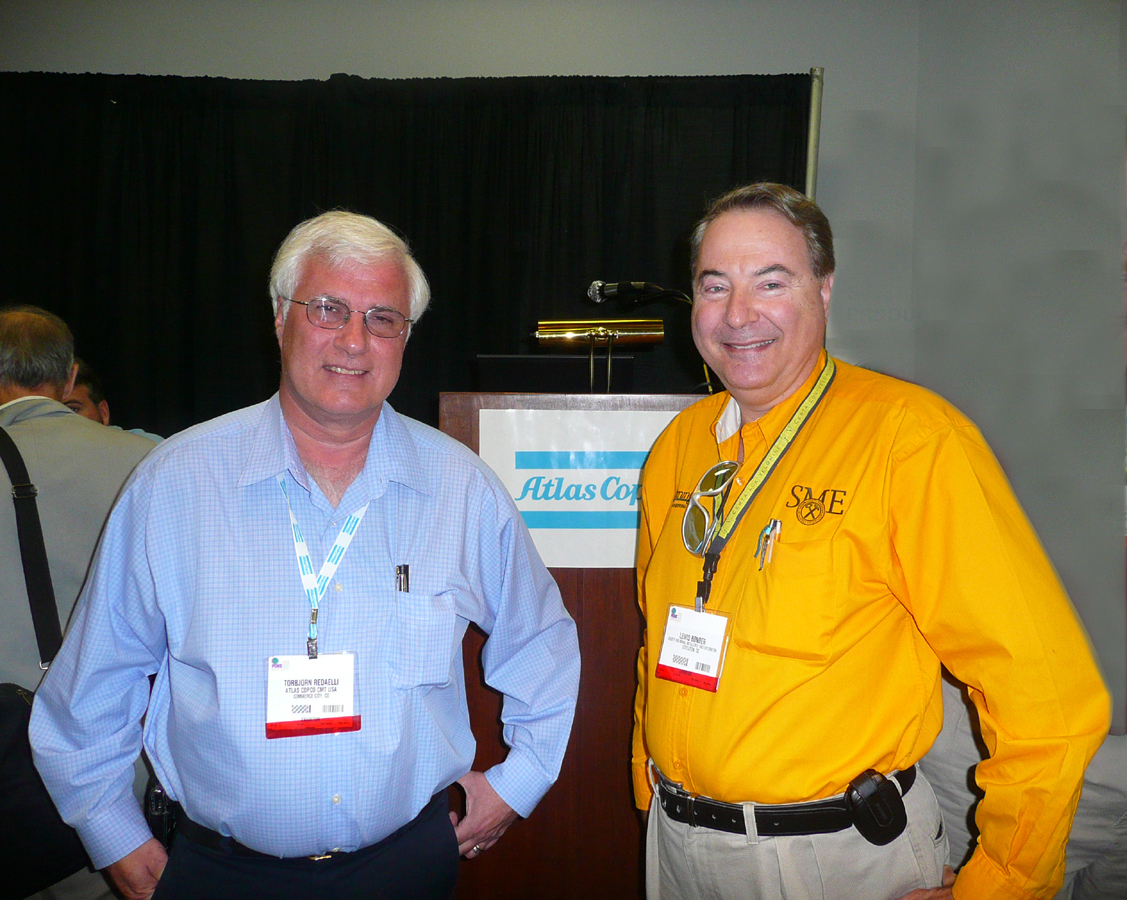 At 2008 MinExpo, Atlas Copco's Torbjorn Redaelli, President & General Manager with Lewis.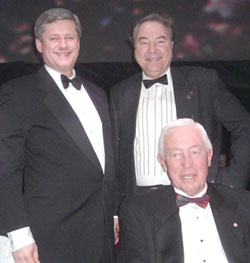 Harper-Bonder-Beliveau
Pictured above, Lewis with Canadian Prime Minister Stephen Harper and seated, NHL legend Jean Beliveau. The celebration was held on March 29, 2007 in Jean's honour with charitable proceeds to benefit children's hospitals in Quebec. Many thanks to Madeleine Supino, NHL Director of Central Registry-Systems, for a fabulous evening.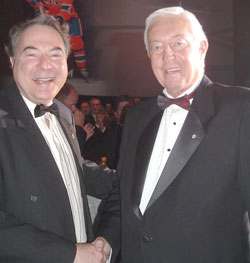 Bonder-Beliveau
Jean Beliveau has represented for me those personal aspects that I have tried to make part of my business career. They include: dedication, perseverance & respect to both clients and competitors. He will always remain a class act who has set the tone; the vibration that comes as close to perfection as I can imagine. Bravo Jean, for your charitable work & resolve to make it happen!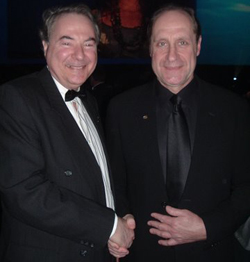 Bob Gainey served as general manager of the Montreal Canadians hockey team from 2003 to 2010. Another true gentleman & hockey super star, like Jean Beliveau . He has an exceptionally engaging personality & he shared some of his incredible historical hockey career with me.

He played with passion with the team from 1973 until 1989.

He spent his entire career playing for the Canadians in the NHL. He was team captain of the Canadians from 1981 until his retirement in 1989."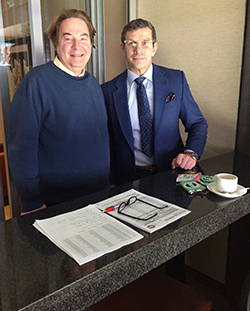 Marc Bergevin, GM of the Montreal Canadians of the National Hockey League, talks "Stats & Trades" with Lewis prior to start of game against Boston. Marc is pure genius; a superb tactician, former player in the NHL & a pleasure to speak to.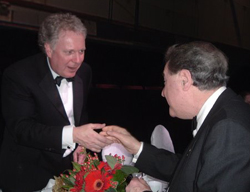 Jean Charest is the current premier of the province of Quebec. He is leader of the Liberal Party. We engaged in a spirited discussion on investment in mining exploration in Quebec. Only about 40% of Quebec's mineral potential is now known. I asked numerous questions on management of mining royalties and mineral titles; why we still support the asbestos industry & why Quebec still does not promote bilingual education in a very changing population mix in the province, that is leaving French speaking children with an extremely poor grasp of the English language.

He couldn't answer all my questions but we shared a friendly yet spirited exchange at the head table. "