Our Clients - Their Stories
At MPI- we have always offered to our clients "Value Added" features, at no charge, to help their businesses secure new clients. Here is the way to participate in this innovative marketing venture.
You must be an existing client & have used at least one of our marketing services over the years. They may include: eMining Blast or Hit List. Display ads in our publications or digital ads on our site.
Tell all our industry contacts "a story" of how your service or products helped your client. This is not an advertisement to buy from you, but a story- the difficulties encountered, what was learned from setbacks with your client, how your organization met the challenges at the mine site. Disappointment, humour, redefinition of the job & final achievement are qualities we are looking for; so are your new clients...
Keep it to about 300-350 words.
We present - The C.C. Jensen Mining Story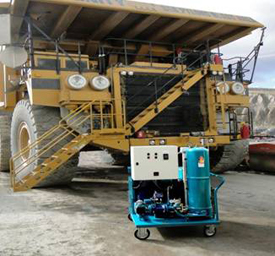 Preventative maintenance is a vital part of a mine's long term profitability. Many forward thinking mining companies have renewed focus on equipment reliability and reducing maintenance costs. Preventative maintenance adds value by increasing uptime of mobile and stationary mining equipment. Significant financial gains can be made by extending component life and reducing the cost per operating hour.
We began working with a major copper producing mine in BC to see if we could extend the lifetime of their haul truck wheel motors. The rear wheel planetary and differential gears share an oil reservoir of over 1,000 litres of oil. Given the substantial volume, regular oil changes are expensive and time consuming, and do not do an adequate job of cleaning out the gear cases; because of the highly viscous gear oil, a lot of contamination remains trapped in the layer of oil lining the interior surfaces. In order to do a more thorough job cleaning these critical components, a hot-oil kidney loop flush and filtration procedure was implemented as part of their haul truck preventative maintenance schedule.
Extending the life of the oil by making it cleaner also extends the overall life of the wheel motors and differential. Prior to filtration the average cleanliness in the rear axle oil was ISO 22/20/17. The wheel motors should be operating with much cleaner oil in the range of ISO 17/15/13. After kidney loop filtration the oil was very clean averaging twice as clean at ISO 16/14/12. Life expectancy of these critical components is extended by 1.5 to 2 times by operating with much cleaner oil. Instead of 18,000 hours of operation these components now operate for 25,000 to 30,000 hours before requiring service, translating to greater overall truck availability.
The main financial benefit is reduction in overall wheel rebuild costs. After just one year of the mobile flushing unit program, wheel change-outs/rebuilds went from 16 per year to 12. Each wheel rebuild costs $95,000, therefore annual savings is approximately $400,000 due to extended component life. In addition to direct maintenance costs the mine estimates an additional $100,000 annual savings in cost avoidance due to reduced haul truck downtime.
Because of the dramatic success with the haul trucks, the copper mine has continued to expand their offline oil filtration program to include bulk oil conditioning and on-board mobile hydraulics, and they are looking into filtration for other various systems like gearboxes, diesel fuel, and portable filter carts for servicing.
Contact information:
Perry Thiessen
Klassen Specialty Hydraulics Inc.
Telephone: (604) 794-7755
Website: www.klassenhydraulics.com